Cargo Electric Tricycle can also be called Energy-saving mini electric tricycle, electric flatbed tricycle, three wheels dump tricycle, underground dumper, mini dumper machine, electric hydraulic tricycle, small truck for mining. Cargo Electric Tricycle is our main product, is a new type of self-unloading tricycle, driven by battery as power source, in the form of hydraulic movements. It has been improved many times with the advantage of large power, long work hours, heavy load and suitable for any road.
Cargo electric flatbed tricycle is the ideal way of transporting in brick factory and plant production with carrying bricks by reducing labor, labor intensity and the cost of production. At the meanwhile, improving production efficiency and the brickyard profits.
It can also be used in refractory plants, flour mills, mill, chemical plant, factory, wholesale department, in the charge of urban and rural households, lease and other short-distance transportation, etc.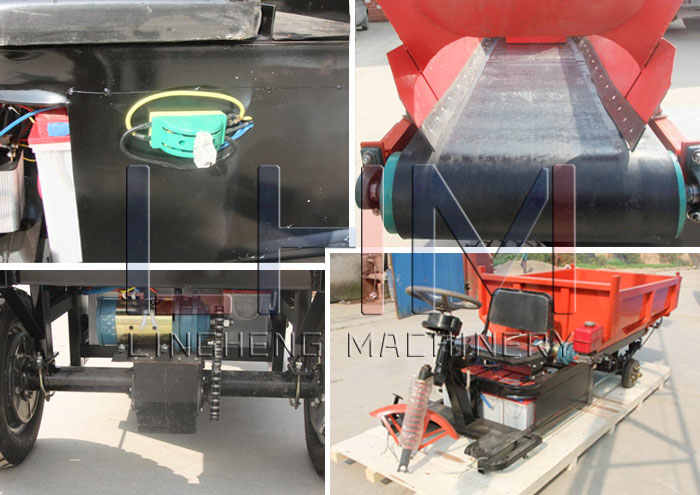 Product Superiority of Cargo Electric Tricycle
1. Work quickly and efficiently
the hydraulic lift system can achieve the freedom of dumping cargo, so that it can save time, manpower and material resources.
2. Great load capacity, wide application range
Because all of them have the steel spring plate, compared with same level of the electric dump truck, ours' maximum load can reach 2 tons.
They are widely used not only in mine, refractory, flour mill, brick factory, furnace charge factory, flour mill, but also in the farm, garden, forest and so on.
3. No pollution, no noise, energy saving, and low cost
They use electric as power source, and an electric charge can achieve sustained discharge 10-12 hours. Effectively reduce the cost.
4. Charging is very convenient
You can use the household power 115-volt or 220-volt to charge directly for the vehicle. Charger jack is standard US socket.
5. High quality tire
As to tire, our factory adopts the high quality tire, which is heavy-duty and durable. So it can apply to any road condition.
It can support body, buffer external shocks, deformation under various load force and the function of the high and low temperature, ensure the security and stability of vehicle.
Detailed Part of Cargo Electric Tricycle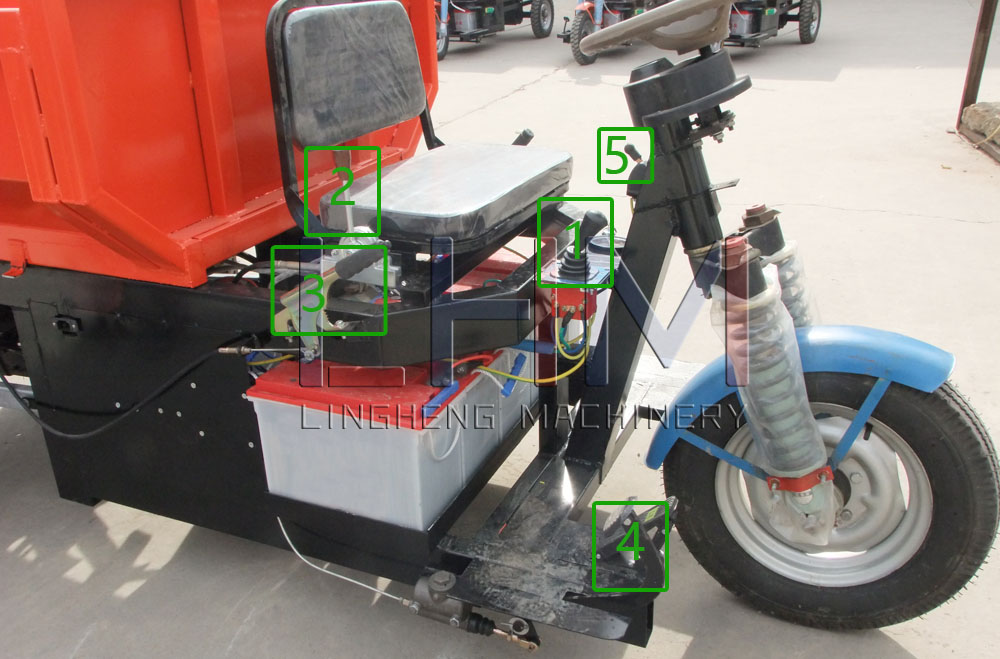 1. Forward/Backward gear: The gear controls the tricycle to run forward or backward.
2. Put into gear: The gear controls the tricycle's speed.The forward gear can speed,the backward gear can slow down.
3. Handbrake gear: Manual brake device for better and more secure brake control.
4. Footbrake gear: Brake pedal,better and more secure brake control.
5. Hydraulic switch: Turn on this switch before lifting or lowering,can control the rise,then closed.
Technical Parameters of Cargo Electric Tricycle
| | | | |
| --- | --- | --- | --- |
| Model | LH155 | LH165 | LH180 |
| Weight | 520kg | 850kg | 1000kg |
| Capacity | 1000kg | 1500kg | 2000kg |
| Overall Size | 2600*900*1200mm | 3100*1120*1180mm | 3250*1250*1350mm |
| Box Size | 1400*900*400mm | 1600*1120*600mm | 1800*1210*620mm |
| Voltage | 48v | 60v | 72v |
| lifting Motor Power | 1000w | 1000w | 1000w |
| Driving Motor Power | 1000w | 2000w | 3000w |
| Front Tire Type | 4.00-12 | 4.50-12 | 4.50-14 |
| Rear Tire Type | 4.50-14 | 5.00-14 | 5.50-16 |
| Box Thickness | 25mm | 25mm | 25mm |
| Workbench height | 600mm | 700mm | 1150mm |
Inquiry* Describe Your Buying Requirements in Detail,We will reply you in 24 hours!