As a professional block making machine manufacturer, Ling Heng Machinery have absorbed the advantages of different models at home and abroad, and consider the urban and rural areas, the qt series concrete brick machine in the conditions of use and maintenance of research and development of new models,
Application of qt series concrete brick machine
Our well-sold QT series of block making machine is used to produce cement brick, hollow block and colorful paving brick. The raw materials can be: slag, fly ash, stone powder, sand, pebble, cement etc. This equipment is also called free-baking brick machine, that's to say the final products need not to be sintered, only short time sun drying is ok.
Features of qt series concrete brick machine
1.All mechanical drive transmission mechanism and rational and effective use of mechanical power, plus materials forming apparatus includes a drive mechanism to complete a variety of process action, consistent action, reliable, durable, easy maintenance
2, Block making machine, the use of upper and lower vibration molding boxes in a vertical directional vibration table below, the pressure head pressure on the beam with vibrator, and thus in the production of blocks or pavers are can lead to satisfactory molding effect, suitable for high strength concrete blocks or pavers production.
3, Multi-purpose machine, applicability, equipped with different mold can produce a variety of shapes and sizes of wall blocks, pavers and masonry wall grille, users with a colored surface such as the production of decorative concrete block, or pavers, you can remove the feeding device, set up feeding platform, the use of artificial feeding, not only can save the cost of colored fabric.And can produce different types of surface decoration with colored blocks and pavement bricks.
4.This machine realized automatic operation, high production efficiencylow labor intensity
5.Widely used in construction, roads, squares, hydraulic, gardens and other construction

Finished Products specification of qt series concrete brick machine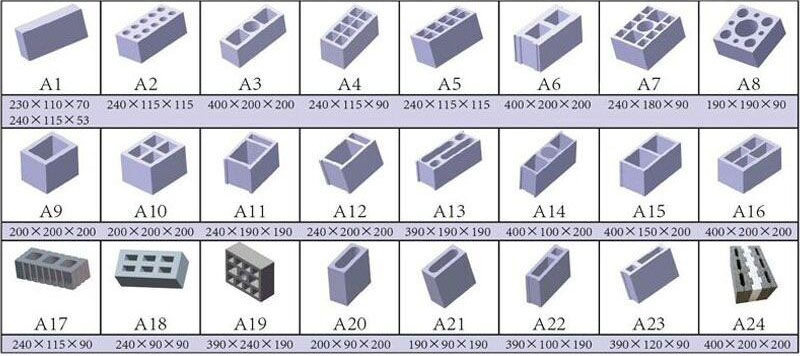 Technical parameters of qt series concrete brick machine
| | | | |
| --- | --- | --- | --- |
| Type | QT4-15 | QT6-12 | QT10-15 |
| Pallet size(mm) | 850*560*20 | 940*750*40 | 1160*880*40 |
| Power(kw) | 32.8 | 45.5 | 50 |
| Weigh(t) | 6 | 10 | 13.8 |
| Forming period(s) | 10-16 | 11-20 | 12-18 |
Inquiry* Describe Your Buying Requirements in Detail,We will reply you in 24 hours!