T Series Tire Mobile Heavy Hammer Crusher Station, which is based on the traditional mobile crusher station through technology improvement and design. It can be crushing and forming at same station, its oil electric dual-use,convenient and fast. Compared with the same model, crushing and forming, can crushing large materials, higher capacity, lower energy consumption, no dust system, control dust pollution from the source, can be free from environmental constraints, to achieve free transition. It has been widely used in large limestone and bluestone mines, and can also be used in cement, mining, sand and gravel industries. Because T series tire-type mobile crushing station adopts tire chassis, it has high cost performance and significant production cost, so it is well received by the market.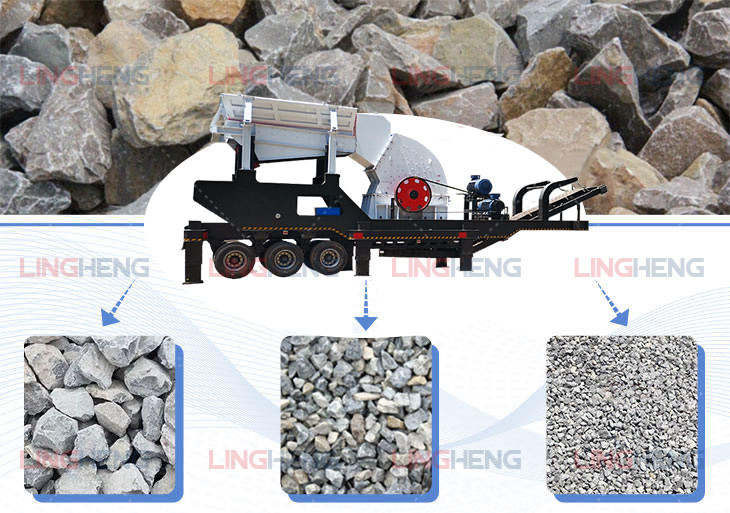 Advantage Of Mobile Heavy Hammer Crusher
1. Strong mobility
The tire-type crushing station has a short length, a short wheelbase and a small turning radius, which can be flexibly driven in ordinary roads and working areas;
2. Integrated complete unit
Eliminates cumbersome installation work, reduces downtime, and a reasonable space layout increases the flexibility of site placement;
3. Ultra-low material transportation cost
Can directly process materials on site to reduce transportation costs;
4. Flexible combination and adaptability
Can be customized according to different crushing process requirements;
5. Crushing and forming
Limestone crushing one mobile station can replace jaw crusher+impact crusher, simplify tedious crushing process, yield grain type is not affected, and can be used when plugged in;
6. No grate+free flow groove design
The discharge can be adjusted to avoid over-crushing, more rounded shape with discharge, which meets the material requirements of highway and high-speed railway;
7. Large feed, high capacity per unit
The maximum feed size is 75 cm, and the maximum capacity can reach 300 tons per hour.
Technical Data Of Mobile Heavy Hammer Crusher
| | | | | | |
| --- | --- | --- | --- | --- | --- |
| Model | Matching Model | Matching Equipment | Feeding Size(mm) | Capacity(t/h) | Dimensions(L*W*H) (mm) |
| T150 | ZGCX1038 | Z1310 | <650 | 150-180 | 13500*2800*4500 |
| T300 | ZGCX1238 | Z1512 | <750 | 250-320 | 13900*2800*5200 |
| T-2160 | 3YKQ2160 | - | <150 | 150-180 | 14700*4500*7500 |
| T-2470 | 3YKZ2470 | - | <150 | 250-320 | 17800*4500*7500 |
Inquiry* Describe Your Buying Requirements in Detail,We will reply you in 24 hours!