Environmental Continuous Carbonization Furnace is a new generation of new products developed by Ling Heng Machinery, and developed according to the actual situation. Also contribute to the environmental protection of wood carbonization. According to different raw materials and different customer needs, we provide two kinds of carbonization machines, one is made of Q235(material:general steel) and the other is C304(material:stainless steel) .
Environmental Continuous Carbonization Furnace is widely used to carbonize sawdust, bamboo, coconut shell, oil palm shell, olive seed shell, rice rush, wood bark, wood branch, crop stalks, seed shells, peanut coat, etc wood waste or (particles size below 15mm). After carbonized, grinding and mixing, these charcoal powder could be raw material to make charcoal briquettes, BBQ charcoal, Shisha Hookah charcoal etc.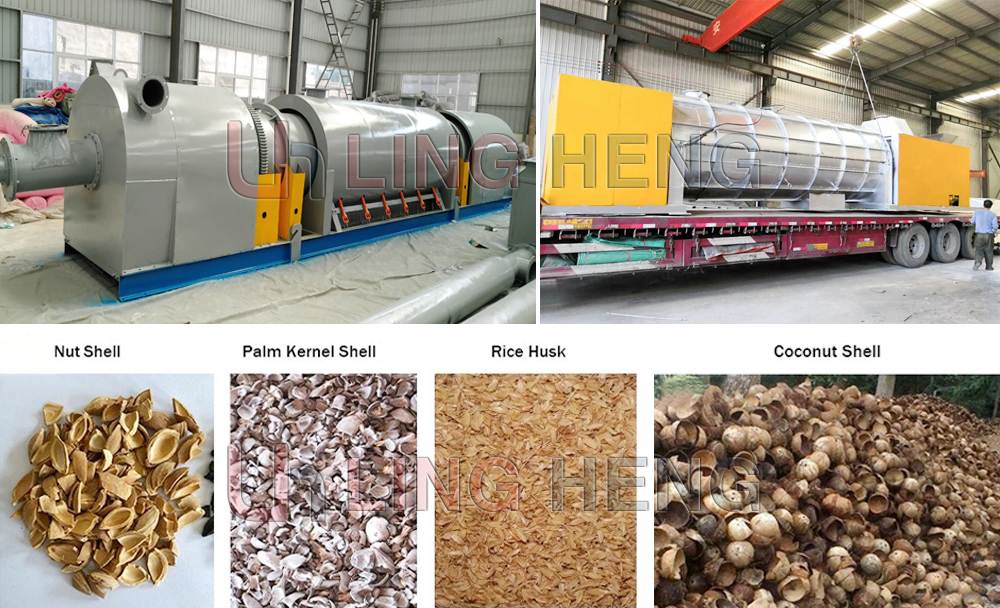 Henan Ling Heng Machinery-Significant Improvements with the New Second Generation Environmental Continuous Carbonization Furnace
1. Newly added high-pressure fan and oxygen distribution fan, which directly draw combustible gases such as carbon monoxide, methane, and oxygen, as well as tar, into the combustion chamber during the process of carbonizing of the materials, and fully combust and use them, which improves the continuity and economy of the equipment.
2. Fully sealed high efficiency combustion chamber, with 30 cm thick refractory bricks, more efficient use of heat, the factory climate is more comfortable. By a small glass window, easy to check the situation in the combustion chamber.
3. Improve the flue gas purification system to reduce the tar cleaning cycle, or even do not have to clean (tar, can also be stored in the flue gas purification storage for other usage.)
4. Electronic ignition, multi-valve control, switch more convenient.
5. The overall equipment is more compact, reducing equipment footprint, easy to transport, save shipping costs.
Raw Material of Carbonization Furnace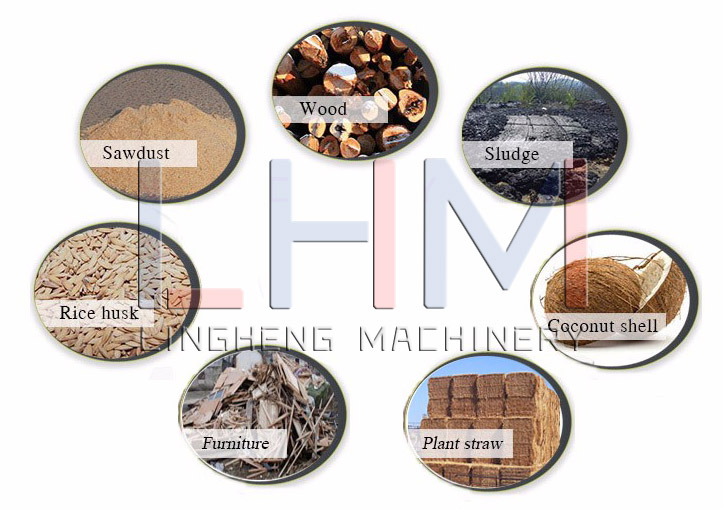 Production Advantages of New Environmental Continuous Carbonization Furnace

1. The continuity of production, shortening the carbonization time;
2. Controllable and adjustable carbonation temperature, easy to operate;
3. Airtight quenching, heat transfer and wear-resistant composite materials to form a highly efficient carbonization chamber, carbonization rate as high as 99%;
4. Combustible gas produced during the carbonization process could be returned to the furnace for combustion,smoke-free, tasteless, pollution-free,environmental and energy-saving;
5. The raw material humidity is within 8-12%;
6. Advanced hot air drying system, excellent drying effect;
7. The carbonization equipment can be transformed into smokeless, odorless, non-toxic clean charcoal with high temperature, purification, and smoke removal, with professional technical protection and no risk.
8. The production of charcoal with high carbon content, less ash, high strength, good thermal conductivity, calorific value up to more than 7000 kcal;
Main Structure & Working Principle of Continuous Carbonization Furnace
The whole set of Carbonization Furnace consists of a screw feeder, a gasifier, a carbonization reactor, a flue gas purification system, a high-pressure fan, an oxygen distribution fan, and a cooling discharger.
Power supply by motor, with its own gas as the fuel, the wood material drying in the reactor under negative pressure, carbonizing under positive pressure and hypoxia.
Step of Furnace Carbonization Processing
1-Drying
From the start of ignition, until the furnace temperature rises to 160 oC, the moisture contained in the mechanism rod relies mainly on the amount of external heating and the heat generated by the combustion itself to evaporate. The chemical composition of the mechanism bar has almost never changed.
2-Carbonization initial
This stage mainly by its own rod to generate heat combustion, the furnace temperature rose to between 160-280 oC. At this point, the wood material pyrolysis reaction, the composition began to change. One of the unstable components, such as hemicellulose decomposition of CO2, CO and a small amount of acetic acid and other substances.
3-Full carbonization
The temperature of this stage is 300-650 oC.
In this stage, the wood material undergoes rapid thermal decomposition while generating a large amount of liquid products such as acetic acid, methanol, and wood tar. In addition, methane, ethylene and other flammable gases have also been produced. These flammable gases can be circulated and burnt through valves. Thermal decomposition and gas combustion produce a lot of heat, so that the furnace temperature, wood materials at high temperatures carbonized into carbon.
To calcine high-temperature carbon, in addition to the above three stages, we must increase the heat, so that the temperature in the furnace will continue to rise to approx 800 - 1000 oC, so it can discharge the volatile substances in the charcoal, improve charcoal Of carbon content, the carbon graphite structure increased conductivity.
All the inner parts of the continuous carbonization furnace are made of special high temperature resistant precious metal steel, which is sturdy and durable, does not deform, does not oxidize, and has good heat preservation performance. The machine is simple to operate, safe and reliable.
Various kind of charcoal as follow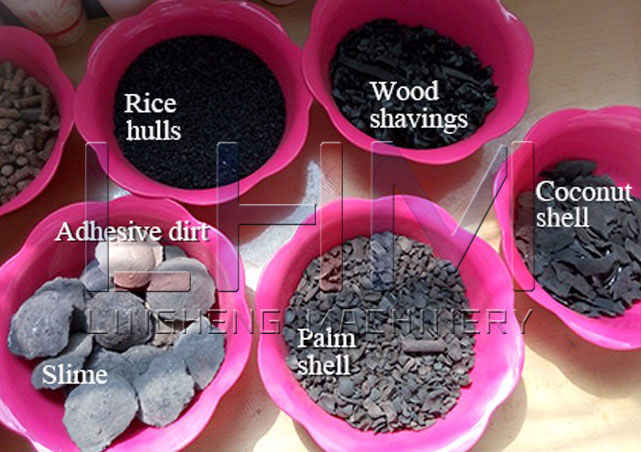 Technical parameters of Environmental Continuous Carbonization Furnace
Model
Output Capacity(KG/H)
Power (KW)
Dimension (m)
Host RPM(revolutions per minute)
Raw Material
sawdust, coconut shell, wood, rice husk and other biomass material/ waste sludge
LHTH-1000
400-600
25
9*1.5*2.7
3-5
LHTH-1200
800-1200
27
12*1.7*2.9
3-5
LHTH-1500
1500-2000
32
12*2.0*3.2
3-5
LHTH-1800
2500-3000
39
12*2.3*3.3
3-5
Except above models, we also can supply special model according to client requirements.
Technical parameters of Stainless Steel Carbonization Furnace
Model

Capacity (final charcoal)(kg/h)

Power (Kw)

Rotary speed of furnace

Structure

HostDimension (L*W*H)(m)

Raw material

LH0812

300-500

20

3-15rpm

Horizontal

Sawdust, coconut shell, wood waste, rice husk,bamboo, palm,seed shell,straw stalks,Biochar,sewage sludge,etc

LH1015

800-1000

23.5

LH1218

1000-1500

45
We can also supply charcoal machine, pressure ball machine, and briquette machine to meet your requirements. Any other needs, please contact us, we can offer you a most suitable solution according your demands.
Inquiry* Describe Your Buying Requirements in Detail,We will reply you in 24 hours!