Charcoal Briquettes, the most popular barbecue fuel currently, are mainly made by charcoal briquetting machine. Their ingredients are charcoal, a small amount of sawdust, white ash, binder, etc. Coming in different shapes, charcoal briquettes generally burn at 800 to 1000 Fahrenheit Degree. It also known as artificial charcoal, is made of carbonized biomass powder which combined with other adhesives, and then the mixture is pressed by briquetting machines.
Charcoal Briquette is a kind of fuel made by charcoal powder. Compared with traditional fuels, charcoal briquettes can not only generate heat continuously but also produce no smoke and odor during combustion.
Therefore, it has been widely used in domestic and industrial applications in recent years and has become the most popular fuel in many countries such as Kenya, the Middle East, Uganda, India, etc.
Briquette Machine cover a wide range such as charcoal briquette machine, coal briquette machine, charcoal ball press machine, honeycomb briquette machine, hookah shisha charcoal briquette machine, cube charcoal extruder briquette machine, tablet press making briquette machine and so on.
Raw Materials of briquette machine sources are various, like coconut shell, hardwood, wood sawdust, nut shell, crop straw husk, peanut shell, cotton shell, corn cob, rice husks, and other forestry residues etc, they can be carbonized into charcoal directly, then briquetted into different shapes.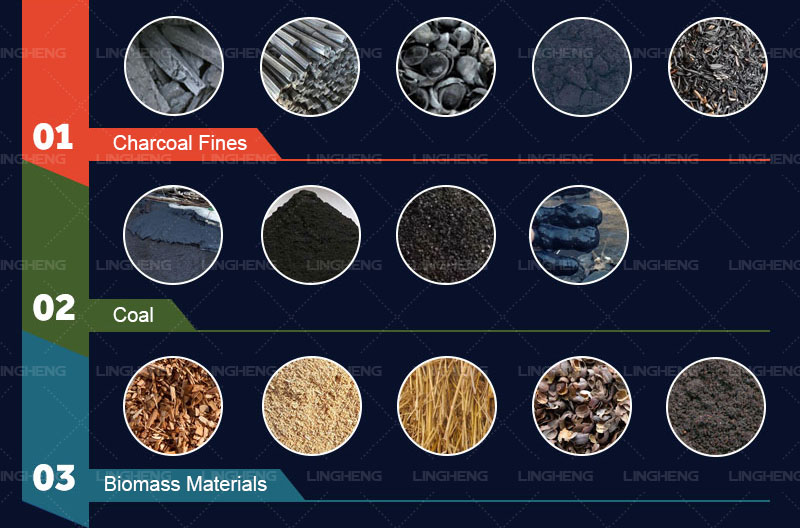 1. Charcoal Fines: wood charcoal, sawdust charcoal, coconut shell charcoal, carbon powder, burned rick husk, burned bamboo shavings, and other carbonized agricultural residues.
2. Coal: Coal slurry, coal dust, coal fines, coal powder
3. Biomass materials: wood chips, sawdust, cotton straw, bamboo dust, coffee husk, corn, sunflower shell, tree branches.
Previously, people burning plenty of scattered coal, combustion is not complete, waste a great deal of coal resources, and serious environmental pollution. As the global energy crisis, every country pay great attention to the energy problem.
These barbeque charcoal briquettes can be exported to Europe and the United States, South Korea, Japan applied to large buffet barbecue shop, star hotel buffet barbecue, outdoor barbecue.Some country lack of natural coal, the local biomass can be processed into charcoal, the output charcoal briquettes can be used as domestic fuel and industrial smelting.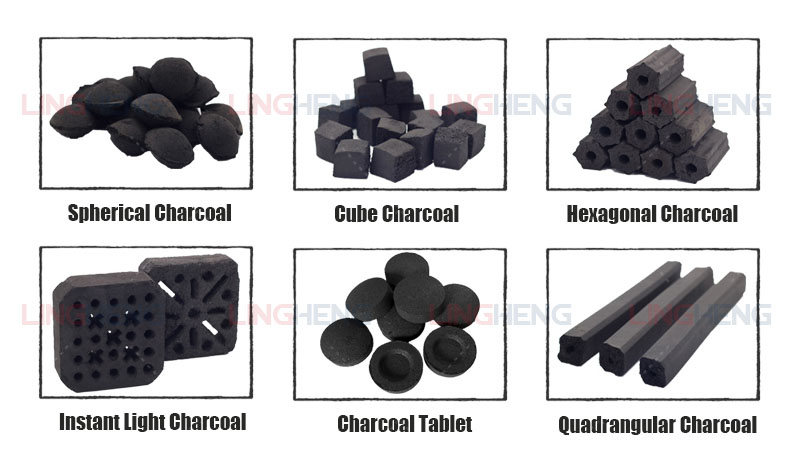 Finished charcoal briquettes by briquette pressing machine can be ball/spherical shape, cubes shape, finger/cylinder shape, pillow shape, hexagonal sticks, honeycomb/lnstant light charcoal, shisha charcoal etc. We'll suggest suitable machine according to your need.
Final products with corresponding briquette machines

Advantages of charcoal briquettes during processing
Compared with other fuel, the biggest advantage of charcoal briquette is that it has no environmental pollution during the whole processing.
End Use For Charcoal
Daily life: can be produced into BBQ charcoal or be used as fuel to provide heat.
Agriculture: owing to the strong adsorption capacity, it can improve the quality of soil, so as to enhance the grain output.
Industry: charcoal can be further processed into activated carbon; used as construction brick with clay and fuel in steel and iron factories, ceramics and so on.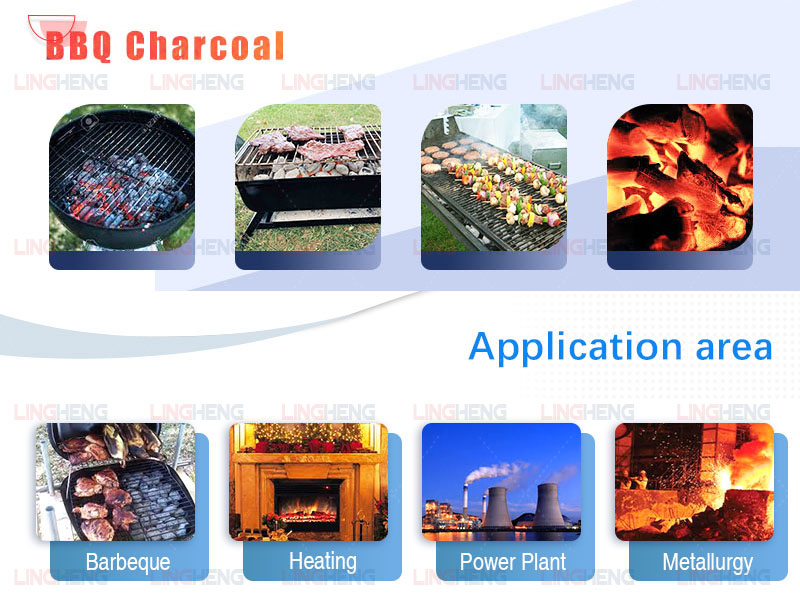 How to make charcoal briquette?

Is charcoal briquette safe? Let's take a look at its production process. Charcoal briquettes need to be made with a reliable charcoal briquette machine. The following is briquette production process of a professional charcoal briquetting machine brand Ling Heng Machinery:
Raw materials ----> Carbonization Furnace ----> Crushing ----> Briquetting ----> Drying ----> Packaging and Warehousing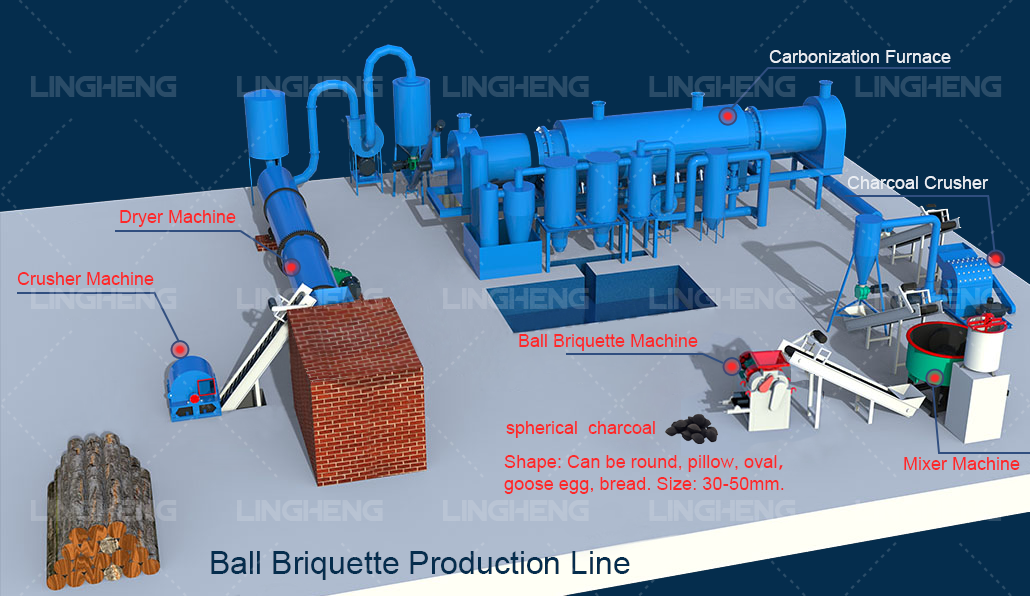 A complete flow chart of briquetting plant shows how the plant works and which machines are included. The briquetting process mainly includes crushing, drying, carbonization, briquetting, packing. With different purpose like charcoal briquettes making, you may need to add a furnace in the plant.
Henan Ling Heng Machinery is famous briquette machine manufacturer and briquette machine supplier in the world. Welcome visit for cooperation. Leave us a message for more product.
As one of the strongest biomass charcoal making machine manufacturers in China, Ling Heng Machinery doesn't only aim to manufacture good products for the customers, but also care the customers' profits and the sustainable development of the planet. For you, it is a great chance to grasp and a real profitable investment you can try. Ling Heng Machinery will help you throughout every phase of your business plan. Contact us freely if you want to know more about our machine.
If you are not sure which briquetting machine to choose, or whether your material is suited for the machine you want to use, please contact Ling Heng Machinery, we will help you select the correct briquette machine, and build a satisfactory charcoal briquette pressing line.
For more details of machine that can be used in briquetting machine welcome to chat online with our engineers or email at [email protected] to get the latest quotation and discount!