Small Diesel Engine Jaw Crusher also named Small Portable Crusher are mainly used in some places which don't have enough electricity or without electricity. They can do medium or fine crushing for every kind of rocks and stones. and it is very popular machinery in gold mining plant.
Mobile Diesel Crusher is widely used for crushing various materials like stone, granite, trap rock, coke, coal, manganese ore, iron ore, emery, fused aluminum, oxide, fused calcium carbide, lime stone, quartzite, alloys, etc. The application of tires makes the machine more convenient to move and adapt to various application, especially when your place lack of electricity or you need to move machines frequently. We also can add wheels or screen ones as clients' request.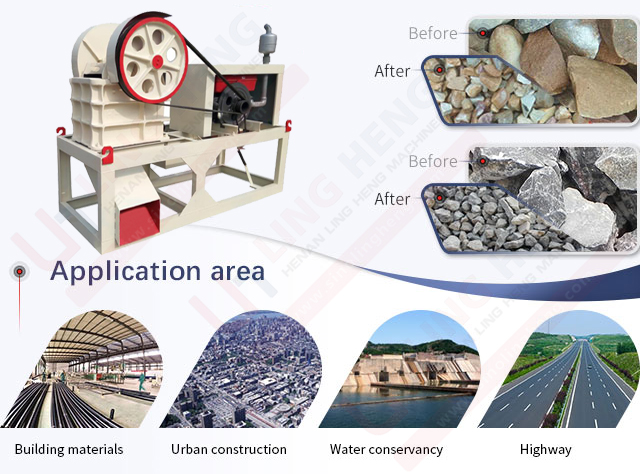 Features of Diesel Engine Jaw Crusher
1. Convenient: Powered by Diesel; No need electric power; As the Diesel mini jaw crusher is mobile, when needs crushing, just push it in required place
2. Equipped with two wheels, mobile diesel mini jaw crusher can be mobile, which can reduce the difficulty of production., and increase the flexibility of the equipment;
3. Structure is simple, reliable; low operating costs.
4. The discharging size of jaw crusher can be adjusted to meet the requirements of different users;
Diesel engine jaw crusher is easy to install, operate and maintain. As per feedback, our experts will make continuous improvements on our products to meet customers' changing needs. Every feature diesel engine jaw crusher has been carefully designed to provide superior quality and performance.
According to user's demand, small jaw crusher could be customized fixed(Fixed Diesel Jaw Crusher), mobile(Mobile Diesel Jaw Crusher) or screening(Screen Diesel Jaw Crusher) type. The driven motor could be diesel engine or electrical motor.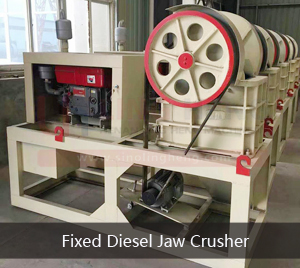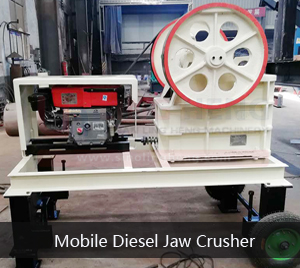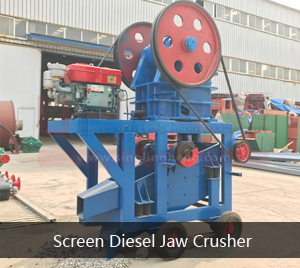 Working Principle of Diesel Engine Jaw Crusher
This kind of Jaw Crusher adopts diesel engine motor as its power. When the small diesel engine crusher working, the diesel engine transmits power through belt and belt pulley, drives the swing jaw surround the eccentric shaft do periodiction. The angle between toggle plate and swing jaw increases when swing jaw moves up, which makes the moving jaw get closes to the fixed jaw. At the same time the material is squeezed, rubbing, grinding and other multiple broken. The angle of Jaw Crusher between toggle plate and swing jaw decreases when swing jaw moves down, the moving jaw of Jaw Crusher moves away from fixed jaw by the pulling of rod and spring, the products after crushing will be discharged from the outlet of Jaw Crusher.
Technical Data of Diesel Engine Jaw Crusher
| | | | | | | |
| --- | --- | --- | --- | --- | --- | --- |
| Model | Feeding size (mm) | Discharging size(mm) | Capacity(t/h) | Power (hp) | Weight(kg) | Dimension (mm) |
| MPE1525 | <125 | 10-40 | 1-3 | 8 | 920 | 1976*930*1410 |
| MPE2030 | <165 | 15-50 | 2-6 | 11 | 1700 | 2130*1082*1600 |
| MPE2540 | <210 | 20-60 | 5-20 | 25 | 3150 | 2400*1200*1850 |
| MPE4060 | <300 | 40-100 | 15-50 | 40 | 6900 | 2605*1610*1900 |
Inquiry* Describe Your Buying Requirements in Detail,We will reply you in 24 hours!