Due to the high cost of non-biofuels such as coal and natural gas, households in rural are highly dependent on available biofuel sources such as firewood, manure cakes and agricultural residues as their primary energy source.
With the of conventional fuel (coal, natural gas) price keep rising, It is estimated that about 96% of rural households are using biofuels. These fuels predominate in the home and are used mainly for cooking. the new energy resources start to get people's attention, many people begin to focus on Biomass fuel business. In agricultural countries, biomass briquettes are used as a kind of renewable, clean, eco-friendly energy fuel. This plant uses biomass and agro-forest waste as materials and produce stick shape briquette in different diameters.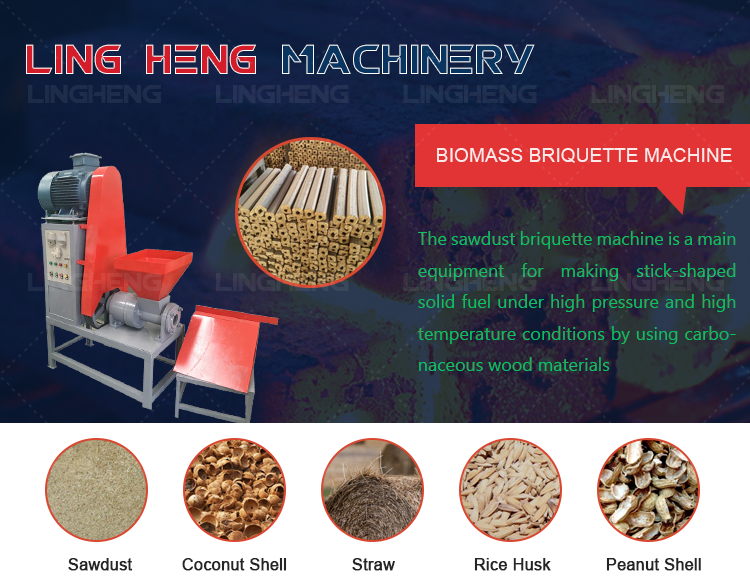 What is biomass briquette machine?
Biomass Briquette Machine is a main equipment for making stick-shaped solid fuel under high pressure and high temperature conditions by using carbonaceous wood materials (length <5mm, diameter <3mm) with water content <12%, such as wood, sawdust, rice husk, peanut shell, cotton stalk and plant straw (without adding any additives). The briquette machine is also called wood powder briquette machine. It is also the main equipment of machine-made charcoal production line.

Almost all kinds biomass wastes can be made into biomass sticks. If you are not sure whether your material is suitable. Feel free to contact us for help.
What is charcoal?
Charcoal is a dark brown or black porous solid fuel that remains after incomplete combustion of wood or wood materials or pyrolysis in the absence of air.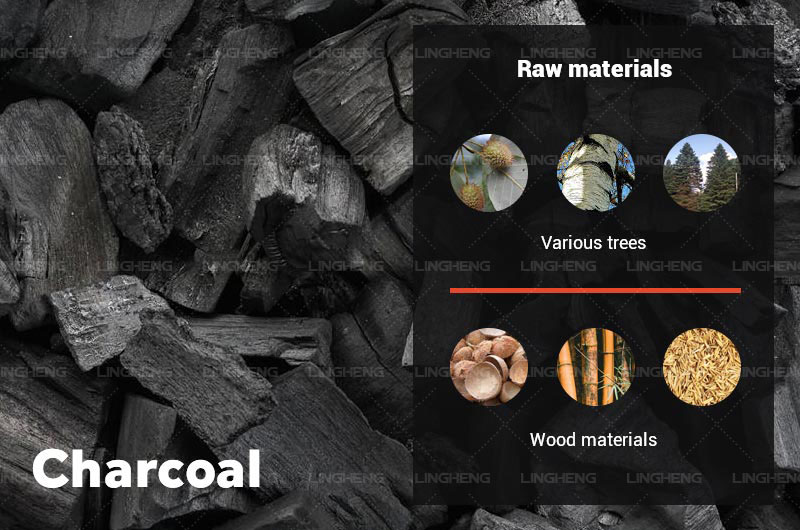 What is Machine-made Biomass Sticks?
By the charcoal rod machine, the diameter can be: 46mm, 48mm, 50mm with hole in the middle. Length usually about 50-70cm). The biomass briquette can be used as fuel for boiler or home cooking direclty. Or as a Semi-product, need to be charred by the kiln or carbonization furnace to turn into charcoal.
What is Charcoal Briquette?
Machine-made biomass sticks after carbonized, it turns into charcoal briquette. The charcoal has features of smokeless tasteless, combustion time is long, high thermal mass, etc, are used for barbecue, hot pot, heating, heating, drying, etc. It's ideal BBQ charcoal and home cooking charcoal.

Carbonization Furnace/Stove Machine is a new type charcoal machine, it could deal with raw materials such as wood waste, wood branch, bamboo, sawdust briquette, palm shell, coconut shell, peanut shell, olive wastes and etc. It has big diameter, large capacity, simple operation and wide applications for charcoal raw materials. Before the carbonization, the raw material can be shaped biomass briquette sticks or shapeless material such as wood logs, wood strips etc. You can also put lump materials into carbonization furnace directly, and get natural biomass charcoal after 8-10hours.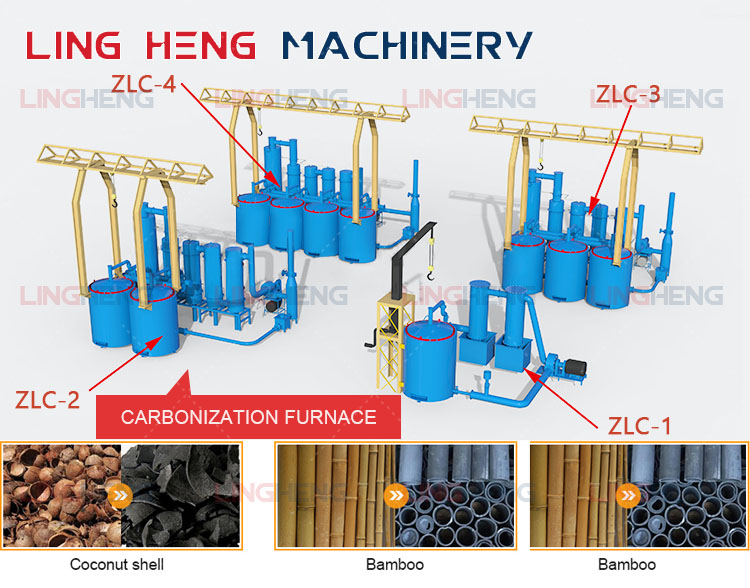 The main applications of the charcoal briquettes
1. Heating: For most countries, charcoal briquette is widely used. Choosing charcoal briquettes is an economical method of keeping warm.
2. BBQ: It is suitable for indirect grilling. The charcoal briquette is the best choice whether it is a large commercial barbecue or a home barbecue.
3. Industrial silicon plant fuel: It can be used as a stove fuel.
4. Smelting process fuel: Using for continuous heating.
Working Process of Charcoal Production Line
The first, the raw materials through Crushing Machine into small pieces (diameter is about 3-5mm), And then, the materials by Drying Machine or dried it in the sun, till the moisture is less than 12%; The third, Put the materials into feed let of Charcoal Briquette Machine; Produce the briquette stick from biomass material without any additive; Last, Carbonized the briquette stick by Carbonization Furnace into machine-made charcoal.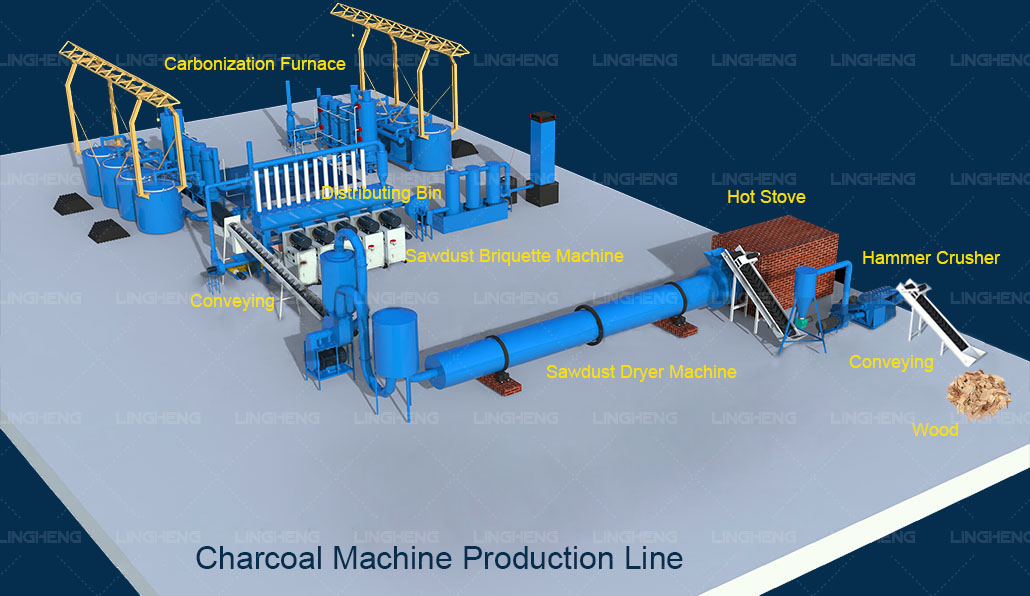 Main Products Charcoal Machine
The whole charcoal production line consist of Crushing Machine, Drying Machine, Biomass Sawdust Briquette Machine, Carbonization Furnace and Auxiliary Equipments. For each machine, there's different types which is applicable for different materials. We can suggest machines and models according to raw material situation(size, moisture etc.)
As a professional charcoal machine manufacturer, Henan Ling Heng Machinery has the charcoal machine for sale. The equipment in Ling Heng Machinery has been strongly favored by its customers at home and abroad. To get the charcoal machine price, please contact us soon. Purchasing email: [email protected]