Sand Dryer, also known as river sand dryer, yellow sand dryers, quartz sand dryer, is a kind of drying equipment to process large numbers of items, with reliable running, operating flexibility, adaptability, large capacity, etc. Sand drying machine is suitable for drying granular materials, especially sand, river sand, quartz sand,with excellent drying effect.
This river sand dryer machine is mainly composed of rotary part, lifting board, transmission part, supporting part and seal ring. The dryer machine produced by our company uses new lifting board with many functions of guiding, current sharing and material lifting, and the materials can be comprehensively distributed on the radial sections of the dryer machine and the material curtain is in the thin, average and full state and the materials can fully contact the hot air, thus achieving the aim of making full use of the heat.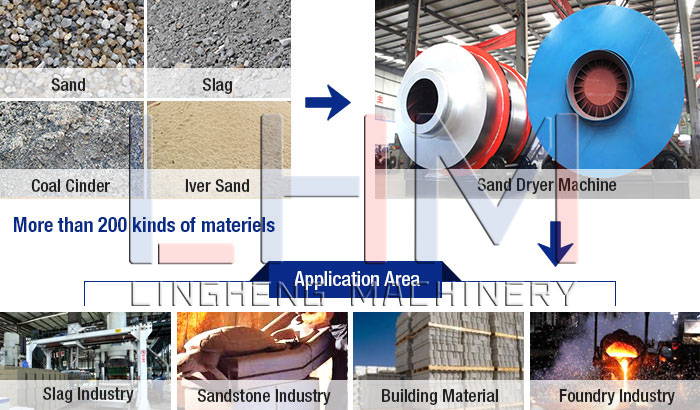 Features of Sand Dryer Machine
1. Accessories of the sand dryer are wear resistant, with high thermal efficiency.
2. Sand dryer is applicable for white coal, bituminous coal, fuel, coal, oil, gas, etc.
3. Construction investment is low, and it's easy to be installed.
4. Sand dryer is with no leakage phenomenon, which can completely solve the sealing problems.
5. Discharge temperature is not higher than 60 degrees, directly feeding without cooling shed is OK.
Structure Composition and Characteristics of sand dryer

Sand dryer is mainly composed of rotary cylinder, air inducing equipment, high-speed scattering equipment, lifter plate, automatic cleaning device, transmission device, conveying equipment, hot air equipment, speed reducer, supporting and sealing device, etc. It has reasonable design, exquisite workmanship, stable performance, advanced process, high output, low energy consumption, small occupied area, and high mechanization.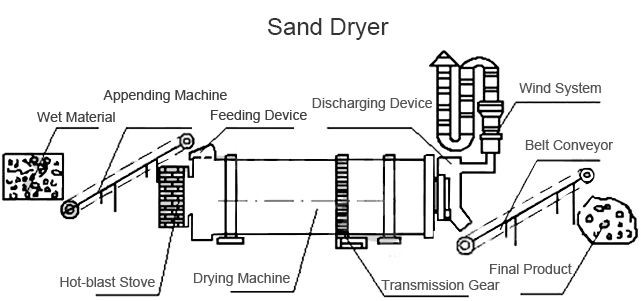 Technology Data of Sand Dryer Machine
Item/Unit/Model
Ø2.5*7m
Ø2.7*7m
Ø3.0*7.0m
Ø3.2*7.0m
Ø3.6*8m
Diameter of outer cylinder(m)
2.5
2.7
3.0
3.2
3.6
Length of outer cylinder(m)
7
7
7.0
7.0
8
Cylinder volume( m³ )
16.63
16.63
52.678
52.678
81.38
Rotating speed of cylinder(rpm)
4-10
4-10
4 -10
4 -10
4 -10
Initial moisture of slag(%)
10-12
10-12
10-12
10-12
10-12
Final moisture of slag(%)
1
1
1
1
1
Initial moisture of yellow ground(%)
8-10
8-10
8-10
8-10
8-10
Final moisture of yellow ground (%)
0.5-1
0.5-1
0.5-1
0.5-1
0.5-1
Highest intake air temperature(oC)
700-750oC
700-750oC
700-750oC
700-750oC
700-750oC
Production capacity(T/h)
Yellow sand25-30
Slag20-25
Yellow sand30-35
Slag25-30
Yellow sand35-40
Slag30-35
Yellow sand45-50
Slag35-40
Yellow sand65-70
Slag60-65
Motor type
Y2-132m-4E
Y2-132m-4E
Y2-160m-4
Y2-160m-4
Y2-160m-4
Motor power(kw)
7.5*2
11*2
7.5*4
7.5*4
15*4
Reducer type
XWD7-23-11W
XWD7-23-11W
XWD6-23-7.5KW
XWD6-23-7.5KW
XWD8-23-15KW
Velocity ratio of reducer
29
29
29
29
29
Henan Ling Heng Machinery Co., Ltd. is a professional sand dryer manufacturer, providing sand dryer price, models and pictures. If you have any questions about the price of sand dryer, you can consult us freely. We are looking forward to your inquiry.
Inquiry* Describe Your Buying Requirements in Detail,We will reply you in 24 hours!