Sawdust Dryer is also called wood shavings dryer or woodchip dryer. Sawdust drying is suitable for drying sawdust, wood chips, straw and charcoal in agriculture and animal husbandry industry, which consists of heating furnace, feed inlet, rotating cylinder, filtering cylinder, conveying pipe, cooling tube and the outlet. It has high drying intensity, short drying time, large capacity, high efficiency, small occupied area, easy construction and maintenance, etc. It is also called sawdust drying machine or wood sawdust dryer.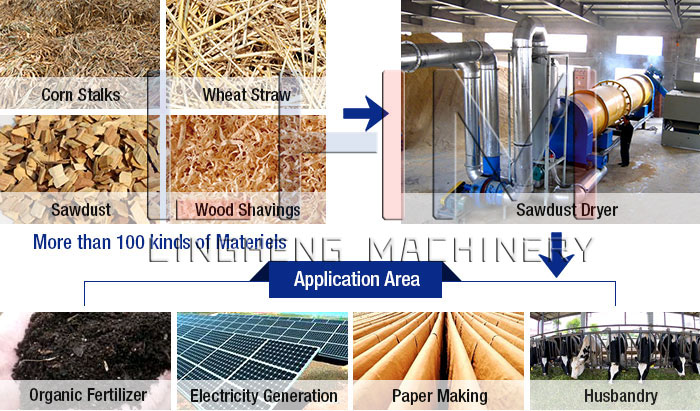 Property Features of Wood Sawdust Drying Machine
1. Automatic control system can guarantee uniform and stable moisture of the dying sawdust.
2. Automatic stone and iron removal system guarantee no impurity of the drying sawdust in the following flow.
3. There is one-sixth investment cost of the foreign introducing equipment.
4. The tail rotation of the sawdust dryer can guarantee the stable and reliable running, completely changing the slipping phenomenon of the riding wheel rotation.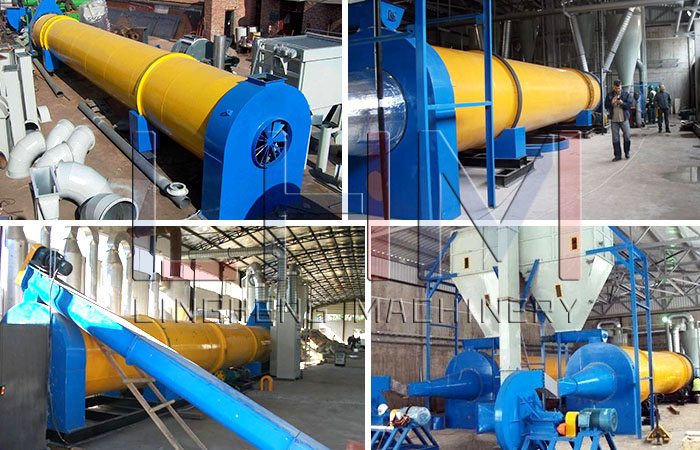 5. Combined distribution of multi orientation lifter blade contributes to the effective drying time adjustment and better drying effect.
6. The moisture content index can be easily adjusted according to the customers' needs.
7. Frequency conversion can effectively control the material flow.
8. With the outlet temperature, the dust-cleaning apparatus has a long service time and continuous production is able.
9. Equipped with new type of energy saving hot-blast stove, it has advantages of high efficiency, energy conservation and controllable heat. There is about 60% coal consumption.
The Structure of Sawdust Dryer
Sawdust dryer structure includes heating furnace, and feeding mouth, rotating tube, filter tube, material transmission tube, cooling tube and discharge mouth. Sawdust can be fully dried in rotating tube, and sawdust will be fully dispersed before going into material transmission tube, making water evaporation fast, and the block can block impurities in sawdust to guarantee the quality of sawdust in the material transmission tube. Wood chips entering the sawdust dryer, and the material boiling in the cylinder of sawdust dryer, hot air fully contact with the material to complete the drying process.
Technical Parameters Of Sawdust Dryer
Item/Unit/Model
Ø2.5*7m
Ø2.7*7m
Ø3.0*7.0m
Ø3.2*7.0m
Ø3.6*8m
Diameter of outer cylinder(m)
2.5
2.7
3.0
3.2
3.6
Length of outer cylinder(m)
7
7
7.0
7.0
8
Cylinder volume( m³ )
16.63
16.63
52.678
52.678
81.38
Rotating speed of cylinder(rpm)
4-10
4-10
4 -10
4 -10
4 -10
Initial moisture of slag(%)
10-12
10-12
10-12
10-12
10-12
Final moisture of slag(%)
1
1
1
1
1
Initial moisture of yellow ground(%)
8-10
8-10
8-10
8-10
8-10
Final moisture of yellow ground (%)
0.5-1
0.5-1
0.5-1
0.5-1
0.5-1
Highest intake air temperature(oC)
700-750 oC
700-750 oC

700-750 oC

700-750 oC

700-750 oC

Production capacity(T/h)
Yellow sand25-30
Slag20-25
Yellow sand30-35
Slag25-30
Yellow sand35-40
Slag30-35
Yellow sand45-50
Slag35-40
Yellow sand65-70
Slag60-65
Motor type
Y2-132m-4E
Y2-132m-4E
Y2-160m-4
Y2-160m-4
Y2-160m-4
Motor power(kw)
7.5*2
11*2
7.5*4
7.5*4
15*4
Reducer type
XWD7-23-11W
XWD7-23-11W
XWD6-23-7.5KW
XWD6-23-7.5KW
XWD8-23-15KW
Velocity ratio of reducer
29
29
29
29
29
Sawdust Dryer Manufacturer
Ling Heng machinery has wood sawdust drying machine for sale. As an experienced sawdust dryer manufacturer, Ling Heng Machinery develops a new type sawdust drying equipment with high efficiency and energy consumption, which has high quality and low price with the same quality. If you want to know the specific quotation of the machine, you can chat with us online or write emails to us!
Inquiry* Describe Your Buying Requirements in Detail,We will reply you in 24 hours!