Cone crusher or symons cone crusher is an advanced hydraulic crusher with high power, big reduction ratio and high productivity. The symons cone crusher is researched on the basis of digesting and absorbing international advanced level of various types of spring cone crushers in 80 years which is obviously different in design compared with the traditional cone crushers and concentrates the main advantages of presently famous types of spring cone crusher, which is suitable for fine crushing and ultra-fine crushing of hard rock, ores, slag and refractory materials.
There are by and large three types of cone crusher: symons cone crusher, hydraulic cone crusher and secondary cone crusher. When customers buy cone crusher, they can choose the suitable one taking into condition the ore or rock that the crusher will deal with. Rock cone crusher's features of large reduction ratio, high efficiency, low energy consumption and even granularity make it popular in the mining plant.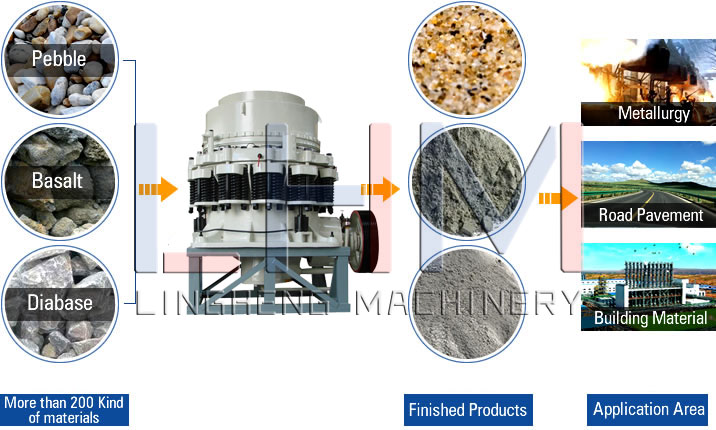 Working Principles of Cone Crusher
When the cone crusher is working, the engine rotates around a fixed point through the belt wheel or the coupling, meanwhile the transmission shaft and the conical part of the cone crusher are taken under the force of the eccentric bushing, which makes the crushing wall close to the pierced mortar wall at intervals. Then, the ores will be impacted, squeezed and bent constantly in the crushing chamber, resulting in the crushing of the ores.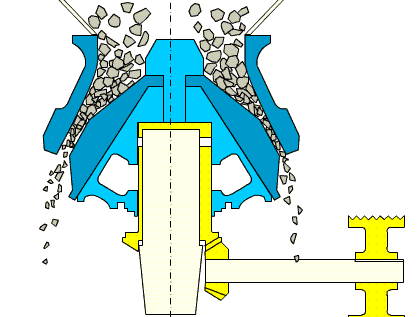 Functions and Features of Cone Crusher
The spring safety system of Symons cone crusher can achieve insurance when the uncrushed materials get into the crushing cavity or when the machine is overloaded for other reasons. The uncrushed materials will be discharged through the enlarged port to get out of the crushing cavity. Due to the work of the springs, the discharging port will be replaced, which makes the rock cone crusher work normally again.
Advantages of Cone Crusher
Ling Heng cone crushers adopt the hydraulic spring system to widen its application range from handling the limestone to basalt.Henglong cone crusher machine does well in all crushing stages like rough, medium and fine crushing processes.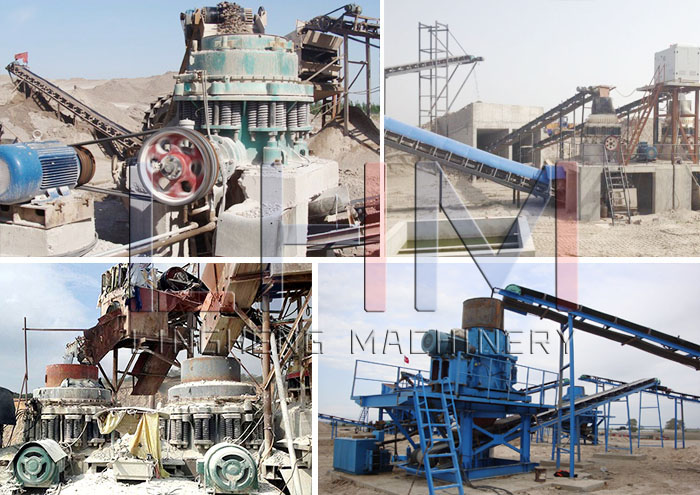 Ling Heng Machinery is a famous cone crusher manufacturer and cone crusher supplier in Central China. Our cone crushers have the features of reasonable price and various types such as the fluid pressure cone crusher and PYB cone crusher. The China cone crusher can complete the rough, medium and fine crushing of the materials.
Technical Data of cone crusher
Specification
Model
Diameter
of large
end of
crushing
cone
(mm)
Max.feeding
size(mm)
Width of
discharge
opening
(mm)
Processing
capacity
(t/h)
Motor
power
(kw)
Total
weight
(t)
Ø600
PYB600
600
65
12-25
40
30
5
PYD600
35
3-13
12-23
5.5
Ø900
PYB900
900
115
15-50
50-90
55
11.2
PYZ900
60
5-20
20-65
11.2
PYD900
50
3-13
15-50
11.3
Ø1200
PYB1200
1200
145
20-50
110-168
110
24.7
PYZ1200
100
8-25
42-135
25
PYD1200
50
3-15
18-105
25.3
Ø1750
PYB1750
1750
215
25-50
280-480
160
50.3
PYZ1750
185
10-30
115-320
50.3
PYD1750
85
5-13
75-230
50.2
Ø2200
PYB2200
2200
300
30-60
59-1000
280-260
80
PYZ2200
230
10-30
200-580
80
PYD2200
100
5-15
120-340
81.4
Inquiry* Describe Your Buying Requirements in Detail,We will reply you in 24 hours!