Mucking Loader also called hag-loader or excavating loader, is a kind of underground projects machinery typically used in the excavating of tunnel mining, mine engineering, coal mines, metal mines, hydropower tunnels and hydraulic engineering. According to the different transportation modes, mucking loader can also be divided into crawler mucking loader and tyre mucking loader.
Mucking Loader is integrates multiple functions including excavation, conveying, loading, running, Because of its high working efficiency, strong ability to adapt the space, less polluting to the air inside of the tunnel, it becomes a very important mechanical equipment in tunnel construction.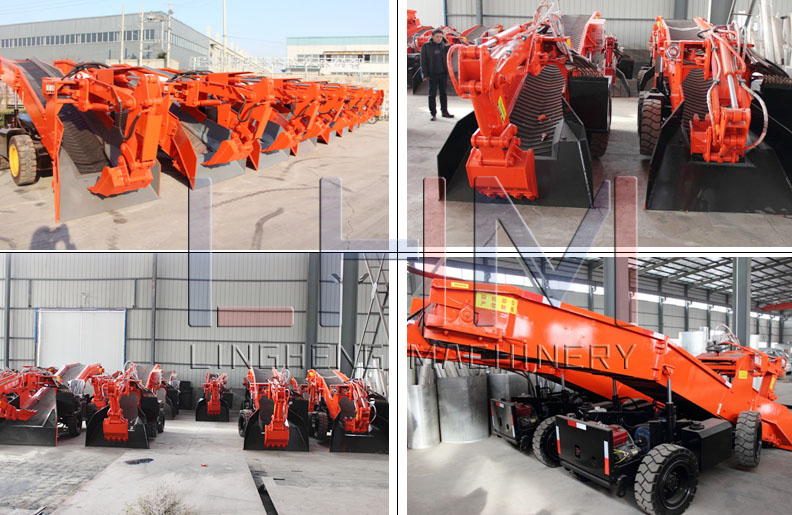 Using electric hydraulic control system, contain five functions are hydraulic walking, mining acquisition, transportation, loading and bottom clearing. Our mucking loader has dualdrive device , electrical installation and diesel Installation. When it works in the mine , please use electric power, for the electric power is more environmental and safe. When it works out of the mine, Hydraulic oil tank can storage oil for a long continuous work.
Among them hydraulic walking function is through hydraulic motor, reducer, transmission shaft, and then to the reducer transmission drive wheel, hydraulic motor with forward, back, automatic brake three kinds of work; mining acquisition function by the robot to complete, the robot with excavation, loading, unloading function, the boom can be up, down, left and right rotation, excavation and acquisition control by the full hydraulic control by two handle operation, similar to the operation of excavators, this technology integrated large excavator operating flow improvement the utility model has advantages of convenient use and easy operation, the conveying and loading functions are completed by a conveyor system, the conveying rack is controlled by a hydraulic cylinder, front wheel can be supported when conveying rack descends, and the interface of the conveying rack and the ore interface closer, more stable at work.
Main Features of Mucking Loader
1) Load sensing hydraulic priority to, stable and reliable, energy conservation and significant.
2) Durable, each gear ratio reasonable matching, reduce the power consumption.
3) Reduce the power consumption.
4) Simple structure and reliable performance.
5) semi-enclosed assembling,easy to maintain.
Detailed Images of Mucking Loader

The hydraulic system and Conveying belt of Mucking Loader
The working arm, wheel and electric control box of mucking loader
Mine Used: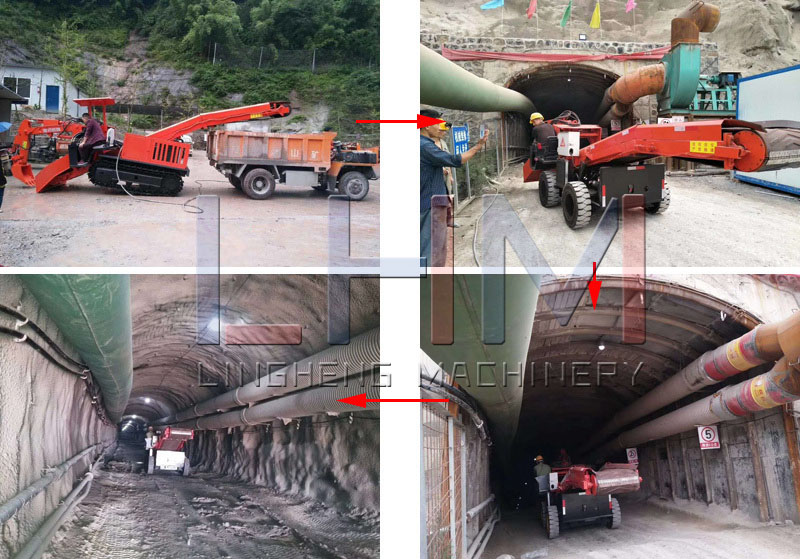 Tunnel Used: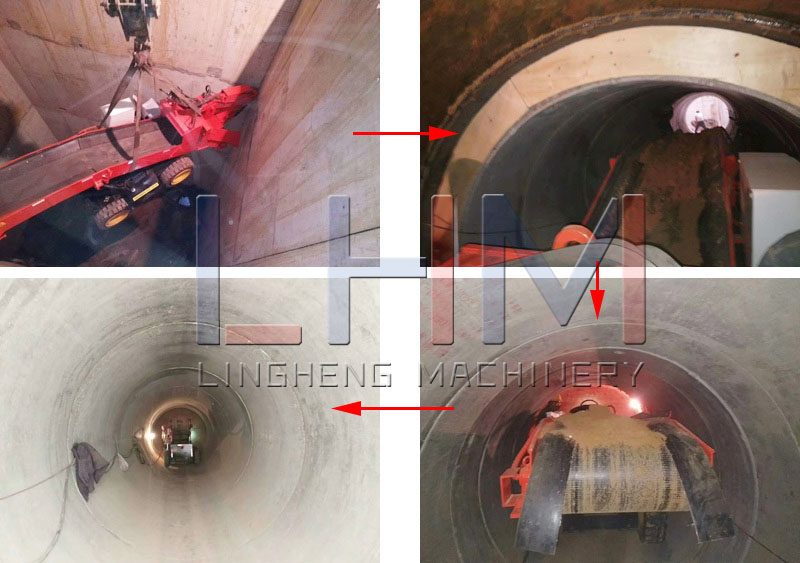 Parameter of Mucking Loader
Item
Parameters


Models
ZWY-50A
ZWY-60A
ZWY-60AZ
ZWY-60B
ZWY-60C
ZWY-80A
Adaptive Tunnel Minimum Fracture
1.6*1.8m
1.8*2m
2*2.2 m
Traveling Speed
2km/h
Ground Clearance
220mm
220mm
Wheel Tread
1380mm
1480mm
1700mm
Wheel Base
1500mm
1600mm
Rated WorkingPressure
16mpa
Big Arm Maximum Angle
(+ - )73˚
Total Motor Power
11+4kw
18.5kw
15+4kw
Maximum Material Dimension
650*500*550mm
600*500*500mm
650*600*500mm
Adaptive Tunnel Gradient
<=15˚
Belt Speed
0.63m/s
0.5m/s
0.63m/s
Overall Dimensions
4600*1380*1600mm
5200*1500*1600mm
4700*1480*1600mm
5200*1500*1600mm
5200*1480*1600mm
6150*1750*1700mm
Machine Weight
3100kg
3400kg
5000 kg
3400kg
3500kg
3400kg
Minimum Turning Radius
4m
Digging Width
2000mm
2400mm
2500mm
2400mm
2400mm
2400mm
Digging Height
1700mm
1900mm
2100mm
1900mm
1900mm
2100mm
Digging Depth
700mm
Digging Distance
1300mm
1550mm
1300mm
1800mm
1550mm
1800mm
Dumping Height
1400-1700mm
1480-1700mm
1480-1700mm
1700-1900mm
1480-1700mm(can be raised)
1700-1900mm
Dumping Distance
1400mm
1400mm
1400mm(can be raised)
1700mm(can be raised)
1400mm(can be raised)
1900mm(can be raised)
Inquiry* Describe Your Buying Requirements in Detail,We will reply you in 24 hours!