Sand Making Machine is the equipment which makes sand artificially. It can be used together with impact crusher or cone crusher according to the material condition and production requirement. Sand making impact crusher (VSI crusher) is applicable for various coarse, medium and fine materials such as all kinds of rocks, refractory materials, cement clinker, quartzite, iron ore, concrete aggregate. It is the best mechanical equipment for aggregate for high-class highway pavement and construction of hydropower facilities.
Generally speaking, the full set of sand making plant includes vibrating feeder, jaw crusher, vertical shaft impact crusher, sand washing machine, belt conveyor, and electric switch box. The full set of sand making machine is suitable for crushing soft, medium hard and extremely hard materials or shaping materials.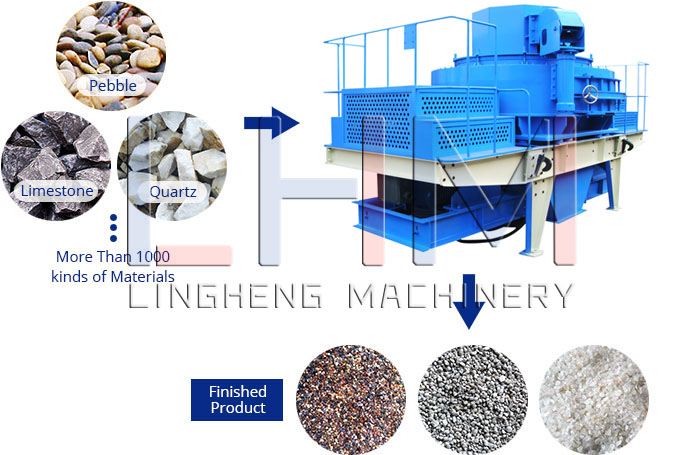 The Working Principle of Sand Making Machine
The material from feeding hopper enters into sand making machine, which can be divided into two parts by sub-feeder, one part enters the high-speed rotating impeller from the middle place of impact crusher, and then the impeller can be rapidly accelerated whose speed can reach up to hundreds of times of the gravitational acceleration, and the material must be far away from channel of the impeller in a speed of 60-70m/s. those materials which is being crushed in the cabinet so many times can reach the purpose of fine crushing at last. And those crushed material is discharged from discharging part. In this crushing operation, the material is crushed by each other, which is not connecting with the metal, which can decrease the pollution and then prolong the service life of mining machine.
Good Performance of Sand Making Machine with Many Advantages
1). High automatic level. The whole line adopts automatic operation except switches and maintenance parts.
2). High efficiency, stable performance, cost effective and high return rate.
3). Cubic final product, superior shape.
4). Good matched crushing plant, reasonable space arrange.
5). Advanced electric control system, easy operation.
6). The process of sand making is dry or semi-dry, so material moisture has little effect on it and the moisture rate can be about 8%.
7). Wear parts are specifically designed and of high quality, thus lowering the manufacturing cost and the customers can get high investment return rate.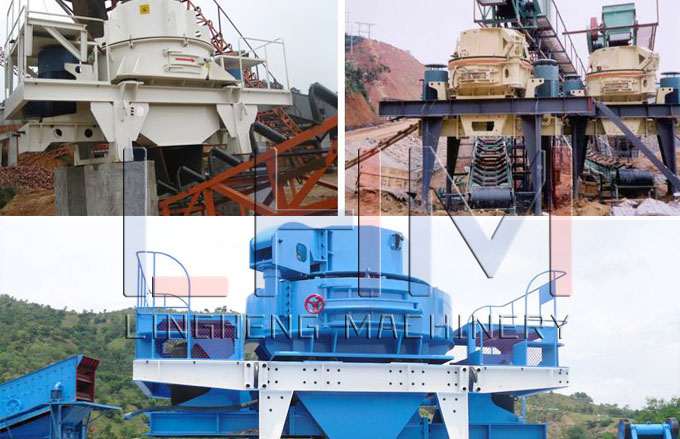 Technical Data of Sand Making Machine
Model
LHVSI7611
LHVSI8518
LHVSI9526
LHVSI1140
Capacity(t/h)
Center and Ring feeding
120-180
200-260
300-380
450-520
Center feeding
60-90
100-130
150-190
225-260
Max Feed Size(mm)
Soft material
<35
<40
<45
<50
Hard material
<30
<35
<40
<45
Rotation speed (r/min)
1700-1890
1520-1690
1360-1510
1180-1310
Power for double motor (kw)
110
180
264
400
Overall Dimension L*W*H (mm)
4100*2250*2285
4140*2280*2425
4560*2450*2780
5100*2690*3200
Weight (t)
7.8
10.3
16
25.6
Power Source
380v 50Hz
Vibrating Sensor
Inspect scope: 0.1-20mm/s adjusted continuously
Lubrication hydraulic
pressure station
Power for double oil pump
2*0.31kw
Safety
To make sure the supply of the oil with double oil pump;
stop working without oil or hydraulic pressure;
temperature falls when the water cools;
start the motor by heating it in winter.
Overall dimension L*W*H(mm)
820*520*1270
Power for oil box heater
2 kw
Inquiry* Describe Your Buying Requirements in Detail,We will reply you in 24 hours!